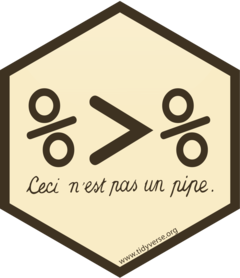 Pipe
Source:
R/pipe.R
pipe.Rd
Pipe an object forward into a function or call expression.
Arguments
lhs

A value or the magrittr placeholder.

rhs

A function call using the magrittr semantics.
Technical notes
The magrittr pipe operators use non-standard evaluation. They capture their inputs and examines them to figure out how to proceed. First a function is produced from all of the individual right-hand side expressions, and then the result is obtained by applying this function to the left-hand side. For most purposes, one can disregard the subtle aspects of magrittr's evaluation, but some functions may capture their calling environment, and thus using the operators will not be exactly equivalent to the "standard call" without pipe-operators.
Another note is that special attention is advised when using non-magrittr operators in a pipe-chain (+, -, $, etc.), as operator precedence will impact how the chain is evaluated. In general it is advised to use the aliases provided by magrittr.
Examples
# Basic use:




iris

 

%>%

 

head




#>

   Sepal.Length Sepal.Width Petal.Length Petal.Width Species


#>

 1          5.1         3.5          1.4         0.2  setosa


#>

 2          4.9         3.0          1.4         0.2  setosa


#>

 3          4.7         3.2          1.3         0.2  setosa


#>

 4          4.6         3.1          1.5         0.2  setosa


#>

 5          5.0         3.6          1.4         0.2  setosa


#>

 6          5.4         3.9          1.7         0.4  setosa



# Use with lhs as first argument




iris

 

%>%

 head

(

10

)




#>

    Sepal.Length Sepal.Width Petal.Length Petal.Width Species


#>

 1           5.1         3.5          1.4         0.2  setosa


#>

 2           4.9         3.0          1.4         0.2  setosa


#>

 3           4.7         3.2          1.3         0.2  setosa


#>

 4           4.6         3.1          1.5         0.2  setosa


#>

 5           5.0         3.6          1.4         0.2  setosa


#>

 6           5.4         3.9          1.7         0.4  setosa


#>

 7           4.6         3.4          1.4         0.3  setosa


#>

 8           5.0         3.4          1.5         0.2  setosa


#>

 9           4.4         2.9          1.4         0.2  setosa


#>

 10          4.9         3.1          1.5         0.1  setosa



# Using the dot place-holder




"Ceci n'est pas une pipe"

 

%>%

 gsub

(

"une"

, 

"un"

, 

.

)




#>

 [1] "Ceci n'est pas un pipe"


  




# When dot is nested, lhs is still placed first:


sample

(

1

:

10

)

 

%>%

 paste0

(

LETTERS

[

.

]

)




#>

  [1] "1A"  "10J" "2B"  "9I"  "8H"  "3C"  "4D"  "5E"  "6F"  "7G" 



# This can be avoided:


rnorm

(

100

)

 

%>%

 

{

c

(

min

(

.

)

, mean

(

.

)

, max

(

.

)

)

}

 

%>%

 

floor




#>

 [1] -3 -1  2



# Lambda expressions: 




iris

 

%>%




{


  

size

 

<-

 sample

(

1

:

10

, size 

=

 

1

)


  rbind

(

head

(

.

, 

size

)

, tail

(

.

, 

size

)

)




}




#>

     Sepal.Length Sepal.Width Petal.Length Petal.Width   Species


#>

 1            5.1         3.5          1.4         0.2    setosa


#>

 2            4.9         3.0          1.4         0.2    setosa


#>

 3            4.7         3.2          1.3         0.2    setosa


#>

 4            4.6         3.1          1.5         0.2    setosa


#>

 5            5.0         3.6          1.4         0.2    setosa


#>

 6            5.4         3.9          1.7         0.4    setosa


#>

 7            4.6         3.4          1.4         0.3    setosa


#>

 8            5.0         3.4          1.5         0.2    setosa


#>

 143          5.8         2.7          5.1         1.9 virginica


#>

 144          6.8         3.2          5.9         2.3 virginica


#>

 145          6.7         3.3          5.7         2.5 virginica


#>

 146          6.7         3.0          5.2         2.3 virginica


#>

 147          6.3         2.5          5.0         1.9 virginica


#>

 148          6.5         3.0          5.2         2.0 virginica


#>

 149          6.2         3.4          5.4         2.3 virginica


#>

 150          5.9         3.0          5.1         1.8 virginica



# renaming in lambdas:




iris

 

%>%




{


  

my_data

 

<-

 

.


  

size

 

<-

 sample

(

1

:

10

, size 

=

 

1

)


  rbind

(

head

(

my_data

, 

size

)

, tail

(

my_data

, 

size

)

)




}




#>

     Sepal.Length Sepal.Width Petal.Length Petal.Width   Species


#>

 1            5.1         3.5          1.4         0.2    setosa


#>

 2            4.9         3.0          1.4         0.2    setosa


#>

 3            4.7         3.2          1.3         0.2    setosa


#>

 4            4.6         3.1          1.5         0.2    setosa


#>

 5            5.0         3.6          1.4         0.2    setosa


#>

 6            5.4         3.9          1.7         0.4    setosa


#>

 7            4.6         3.4          1.4         0.3    setosa


#>

 8            5.0         3.4          1.5         0.2    setosa


#>

 9            4.4         2.9          1.4         0.2    setosa


#>

 10           4.9         3.1          1.5         0.1    setosa


#>

 141          6.7         3.1          5.6         2.4 virginica


#>

 142          6.9         3.1          5.1         2.3 virginica


#>

 143          5.8         2.7          5.1         1.9 virginica


#>

 144          6.8         3.2          5.9         2.3 virginica


#>

 145          6.7         3.3          5.7         2.5 virginica


#>

 146          6.7         3.0          5.2         2.3 virginica


#>

 147          6.3         2.5          5.0         1.9 virginica


#>

 148          6.5         3.0          5.2         2.0 virginica


#>

 149          6.2         3.4          5.4         2.3 virginica


#>

 150          5.9         3.0          5.1         1.8 virginica



# Building unary functions with %>%




trig_fest

 

<-

 

.

 

%>%

 

tan

 

%>%

 

cos

 

%>%

 

sin





1

:

10

 

%>%

 

trig_fest




#>

  [1]  0.0133878 -0.5449592  0.8359477  0.3906486 -0.8257855  0.8180174


#>

  [7]  0.6001744  0.7640323  0.7829771  0.7153150


trig_fest

(

1

:

10

)




#>

  [1]  0.0133878 -0.5449592  0.8359477  0.3906486 -0.8257855  0.8180174


#>

  [7]  0.6001744  0.7640323  0.7829771  0.7153150