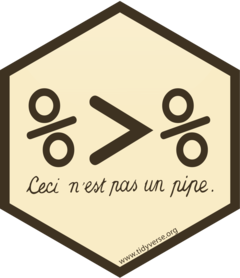 magrittr
Overview
The magrittr package offers a set of operators which make your code more readable by:
structuring sequences of data operations left-to-right (as opposed to from the inside and out),
avoiding nested function calls,
minimizing the need for local variables and function definitions, and
making it easy to add steps anywhere in the sequence of operations.
The operators pipe their left-hand side values forward into expressions that appear on the right-hand side, i.e. one can replace f(x) with x %>% f(), where %>% is the (main) pipe-operator. When coupling several function calls with the pipe-operator, the benefit will become more apparent. Consider this pseudo example:
Four operations are performed to arrive at the desired data set, and they are written in a natural order: the same as the order of execution. Also, no temporary variables are needed. If yet another operation is required, it is straightforward to add to the sequence of operations wherever it may be needed.
If you are new to magrittr, the best place to start is the pipes chapter in R for data science.
Installation



# The easiest way to get magrittr is to install the whole tidyverse:


install.packages

(

"tidyverse"

)





# Alternatively, install just magrittr:


install.packages

(

"magrittr"

)





# Or the development version from GitHub:




# install.packages("devtools")




devtools

::

install_github

(

"tidyverse/magrittr"

)
Code of Conduct
Please note that the magrittr project is released with a Contributor Code of Conduct. By contributing to this project, you agree to abide by its terms.