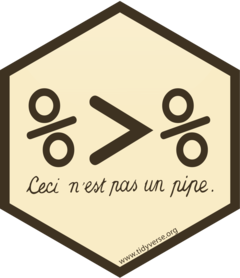 Changelog
Source:
NEWS.md
magrittr 2.0.3
CRAN release: 2022-03-30
Fixed a C level protection issue in %>% (#256).
magrittr 2.0.2
CRAN release: 2022-01-26
New eager pipe %!>% for sequential evaluation (#247). Consider using force() in your functions instead to make them strict, if sequentiality is required. See the examples in ?"pipe-eager".

Fixed an issue that could cause pipe invocations to fail in versions of R built with --enable-strict-barrier. (#239, @kevinushey)
magrittr 2.0.1
CRAN release: 2020-11-17
magrittr 2.0.0
Fast and lean implementation of the pipe
The pipe has been rewritten in C with the following goals in mind:
Minimal performance cost.
Minimal impact on backtraces.
No impact on reference counts.
As part of this rewrite we have changed the behaviour of the pipe to make it closer to the implementation that will likely be included in a future version of R. The pipe now evaluates piped expressions lazily (#120). The main consequence of this change is that warnings and errors can now be handled by trailing pipe calls:
Breaking changes
The pipe rewrite should generally not affect your code. We have checked magrittr on 2800 CRAN packages and found only a dozen of failures. The development version of magrittr has been advertised on social media for a 3 months trial period, and no major issues were reported. However, there are some corner cases that might require updating your code. Below is a report of the backward incompatibilities we found in real code to help you transition, should you find an issue in your code.
magrittr 1.5
CRAN release: 2014-11-22
New features
Functional sequences.
A pipeline, or a "functional sequence", need not be applied to a left-hand side value instantly. Instead it can serve as a function definition. A pipeline where the left-most left-hand side is the magrittr placeholder (the dot .) will thus create a function, which applies each right-hand side in sequence to its argument, e.g. f <- . %>% abs %>% mean(na.rm = TRUE).
New operators
Three new operators are introduced for some special cases
Assignment pipe: %<>%
Tee pipe: %T>%
Exposition pipe: %$%
For more information see the documentation, e.g. ?%T>%.